In Memory
Debra S Sherman VIEW PROFILE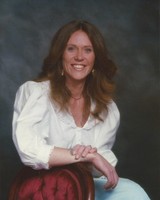 Debra "Deb" Sue Sitarski, passed away in the arms of her loving husband at the age of 55, in Longmont, Colorado, on September 22, 2016. Deb was born April 1, 1961 to Carol McWilliams and raised by her Grandmother Sue McWilliams following her mother's death. She met her husband John Sitarski in Longmont and they were together for 21 years.
Deb was a lifetime resident of Longmont. She attended Niwot High School graduating in 1979. Her professional endeavors included cosmetology, bartending, and restaurant service. She worked at Group Therapy Bar and Grill (formerly Coachman Lounge) for thirteen years. In this capacity, she displayed a remarkable ability to help others selflessly, which led to many lifelong friendships. Her deepest passion was for her Son John Jr (JJ) Sitarski and her husband John Sitarski. She treasured the times she spent with John and JJ, cooking, watching football and doing projects around their home. She was a passionate woman of great vitality and her positivity, motivation and drive, even though the toughest times, were an inspiration to all who had the pleasure of knowing her. Her battle with cancer was fought with the same energy - driven by her desire to see her son graduate from high school. Although her journey on earth ended too soon, she wanted JJ to know that she will be present, watching from above. The family finds some comfort and peace in her passing, knowing that after a courageous eleven year fight, she finally won the battle and she is whole again.
Debra Sitarski is preceded in death by her daughter Brittiany Kay Sitarski, mother Carol McWilliams, grandfather Tony McWilliams, grandmother Sue McWilliams, father-in-law John Sitarski Sr., mother-in-law Marilyn Sitarski and pets Shera, Scooby, Scrappy, and Wilbur. In addition to her husband and son, Deb is survived by her sister Stacey (Mike) Esposito, niece Hailey Esposito, nephew Austin Esposito, mother-in-law Caryl Sitarski, Sister-in-law Rhonda (Chris) Berger and family, sister-in-law Annette Dittman and family, sister-in-law Audrey (Alex) Ortiz, sister-in-law Mary (Brian) Schnable and many loving friends and extended family.
Appreciation is extended to those who helped Deb and the family through the ups and downs over the past eleven years. A special thank you to 'Deb's Angels' – those who helped her through her final days – Kati Segerson, Shawna Johnson, Polly Winkelman, Karen Parsons, Jeannie Westfall, Dhara Trees, Stacey, Mike, Hailey and Austin Esposito, Christina Kielnecker, Chris Long, Shannon VanProosdy and Vicky Marchino. TRU Hospice Care was an integral part of the team and the family truly appreciates their attentiveness and support throughout the journey. A special CNA from Halcyon Hospice Care, Cali, touched Deb's heart; she will always be valued and respected. In addition, two physicians, Dr. Stathis and Dr. Barnett, as well as the entire team from Rocky Mountain Cancer Center, were the key to Deb's fight for many years past her original prognosis.
A service will be held at 11:00 AM Saturday October 22, 2016 at Carroll-Lewellen Funeral Home, 503 Terry Street, Longmont, Colorado 80501. A reception will follow from 12:30 to 2:30 at Eagle Grill, 1600 Hover Street, Ste E, Longmont, Colorado 80501. Please join us in casual clothing to share condolences with the family and to remember Deb's incredible journey.
Click here to see Debra S' last Profile entry.