In Memory
Joseph Foss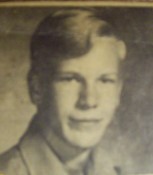 Joseph Foss
Dies at age 16
Joseph Foss
Services for Joseph Raymond Foss, 16, 8116 Anchor Drive, will be held at 11:00 a.m. Monday at Messiah Lutheran Church, 1335 Francis St. Pastor Ronald Leach will officiate.
Mr. Foss died Friday in a car accident near Vail.
He was born Jan. 28, 1961 in Belvidere, Ill., and came to Longmont with his family in October, 1973. He was a student at Niwot High School and worked part time at Ideal Market. He was a member of the Messiah Lutheran Church Choir and a U.S. Naval Sea Cadet.
Mr. Foss is survived by his parents, Clarence and Bessie Keasner Foss of 8116 Anchor Drive, Longmont,; two sisters, Susan Foss Barrett, Longmont, and Mrs. Anthony (Debbie Foss) Hyeser, Hawaii; and one brother, Mike, Longmont. A second brother, Steven Jon, also died in the accident.
Burial will be at Mountain View Cemetery.
Contributions can be made to the Joseph Foss Memorial in care of Howe Mortuary